Location
In front of Kolligian Library
Study, research, intern, volunteer, teach… abroad! UC Merced's eighth annual Study Abroad Fair will take place Wednesday, October 3, 2018, 10 am - 2 pm, outside Kolligian Library. Ask about study abroad programs from UCEAP to Semester at Sea. Learn about other opportunities like the Peace Corps and the Japanese Exchange and Teaching (JET) Program.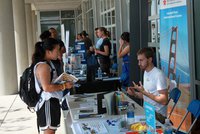 Exhibitors include:
Arava Institute for Environmental Studies
Barcelona Study Abroad Experience (SAE)
Ben-Gurion University of the Negev
CISabroad
The Education Abroad Network (TEAN)
EF International Language Centers
IES Abroad
Institute for American Universities-France
Institute for Study Abroad, Butler University (IFSA-Butler)
International Studies Abroad
International Summer School at the University of Sussex
Israel Institute of Technology, Technion/Neubauer
Knowledge Exchange Institute
Merced County Registrar of Voters (for US Passport handling)
Peace Corps (with UCEAP)
Rothberg International School at Hebrew University
Sea|mester Study Abroad
Semester at Sea
Study in Portugal Network
UC Davis Summer Abroad
UC Education Abroad Program
UC Merced Office of Financial Aid & Scholarships
UC Merced Study Abroad
World Endeavors
RSVP online and let us know you are coming!
Contact
Cecilia Núñez, Study Abroad Advisor
(209) 228-2735, cvazquez4@ucmerced.edu
Study Abroad, Office of International Affairs, UC Merced